Anime Review " Hanasaku Iroha"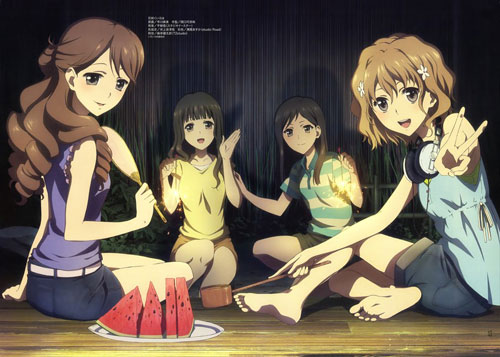 "Yeahh. It really was a fairy tale. A girl extended her hand out to me then… she told me to go die!"
— Matsumae Ohana
Hanasaku Iroha was a refreshing
anime
... I watched the full
anime
this summer before summer class started and it somehow gave me a summer feel...
During the first episodes I was already thinking.. "ahhh a Cinderella love story were she gets sent to her evil step mom and two evil sisters kind of thing" I WAS SO WRONG!!
I thought I was not going to like the main character but I ended up loving her.. she just screams what it means to be a human being!!

Characters
The characters were not exactly people you would meet randomly on the street..
where do you find a shy kappa, a beautiful cook that screems die and bault at your face
a girl who gets drunk on soda...
Mix them up and you get one hell of a show...
but I can`t help but think some of the characters represent some modern day people.. maybe I just live in a small world of my own...
ART
I love the art on both
anime
and manga versions.. it just screams cool!!
that`s all
MUSIC
Nano.RIPE... I already downloaded some of her songs before I watched Hanasaku Iroha and I really think it matches well... even the insert song...
PLOT
It`s really interesting how the characters develop and solve their problems and how they don`t realize it until the end
Topic : Anime
Genre : Anime/Manga